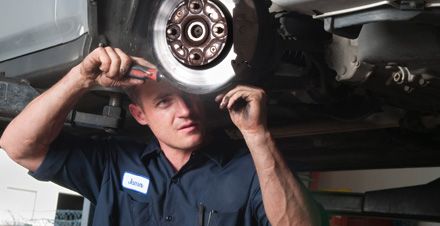 K&F Auto Repair|
Brake Repair and Replacement Services in Farmington Hills, Michigan
The dangers of a faulty braking system on any vehicle are patently obvious so it is vital that all drivers have their brakes checked on a regular basis. Here at K&F Auto Repair we have a specialist brake shop and we have a team of expert mechanics who will carry out all the brake repairs and replacement services your car needs.

We have been offering a first class brake service to the people of Farmington Hills, Michigan, and the surrounding area, for the past 18 years and have developed an excellent reputation during that time. We are quick and efficient, and we have the best rate when it comes to fixing brakes on any vehicles, foreign or domestic.

Among the services we offer are the replacement of brake pads, rotors, shoes, calipers, drum brakes, disc brake repair and brake lines. If the brakes on a car make a screeching or grinding noise when engaged, then it means metal parts are scraping together and it is a sure sign they need to be replaced.

We pride ourselves on our quick repair times and attention to detail in everything we do, including our brake work. We have a team of expert and qualified technicians who can quickly inspect, diagnose and repair any brake problem.

If your vehicle needs new brake pads we will install them for you. We have a variety of types including semi-metallic or low-metallic non-asbestos organic (NAO) pads, as well as ceramic based on the preference of the customer.

Our brake services come with a 100% customer satisfaction guarantee and we offer 10% discounts to AAA members plus a number of other in-store discounts.

If you bring your car to the brake shop at K&F Auto Repair you will be placing it in the hands of the experts. So for all your brake needs call is at (248) 919-8016 and make an appointment.